In the yahrens before Cimtar the Colonial Military began construction of several carrier classes to supplement Viper deployment in a combat environment and to provide vital Viper protection for convoys and destroyer deployments. One such development was the Freya Class Escort Carrier.
Intended to serve as support for convoys and to add viper support to destroyer groups the Freya Class was never intended to stand in the battle line and slug it out with Baseships. It served as a Viper reserve in a large battle and a safe haven for refueling and rearming of Vipers deployed by Heavy Elements that were too close to the enemy to be the center of recovery and refitting of Viper units.
All of the original Freya Class Escort Carriers were destroyed at Molecay and Cosmara Archipelago so the planners of the Fugitive Fleet are improvising and building their own Escort Carriers, known as the Tenarph Class, to supplement the Fleet's defenses.
The Techs are using two heavy lifting ore freighters for the primary hulls. These are not considered 'proper' warships in that they lack the magna hull that is an important feature of Colonial warships and they lack even the alloy armored hulls of the lighter warships. However the Fleet techs have designed a layered armored plate drawn from the salvaged Tenarphian materials with sandwiched layers of ablative foam. Tests have shown that these provide a light weight but tough armor substitute. Topped off with a final, thick, layer of ablative foam the new carriers will be able to hold a strong reserve place in the Fleet formation. Fortunately the huge smelters in the ore freighters required massive power plants, this has provided plenty of extra energy for Electronic Defense Fields, Stealth Suites and numerous medium laser batteries. The biggest shortcoming of the new carriers is that they lack the speed of a military vessel. They are able to achieve 6x light speed at maximum Hyper Speed, but the do have sufficent power capacity for multiple Hyper Speed runs. These two ships have been designated 'Tenarph Class Escort Carriers' in honor of the fallen civilization that was the source of the materials used in the construction.
Freya Class Escort Carrier side view


Freya Class Escort Carrier top view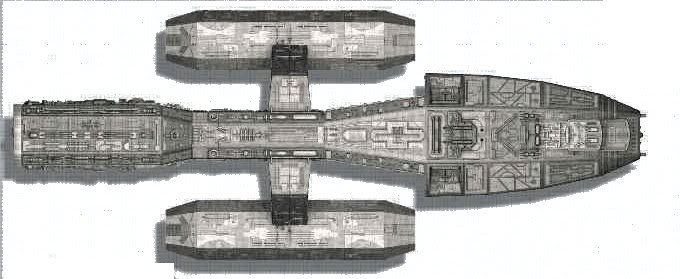 Surviving Freya Class Escort Carrier :  None Known
Commander: Lt Colonel
Executive Officer: Major
Crew- 1,000
Max. Speed- 10x Light Speed
Armament-
(6) Medium Torpedo Launchers
(12) Small Torpedo Launchers
(20 ) Light Laser Batteries <10 port,10 starboard>
(6) Medium Laser Batteries (12 total)
Defenses-
Ablative Armor
Star Shield (Heavy Armor Plate)
Electronic Defense Shields
Compartmentalization
Stealth Suites
Auxiliary Craft-
(75 ) Medium Fighters
(4) Recovery Shuttles
(6) Shuttles Type 1
Tenarph Class Escort Carriers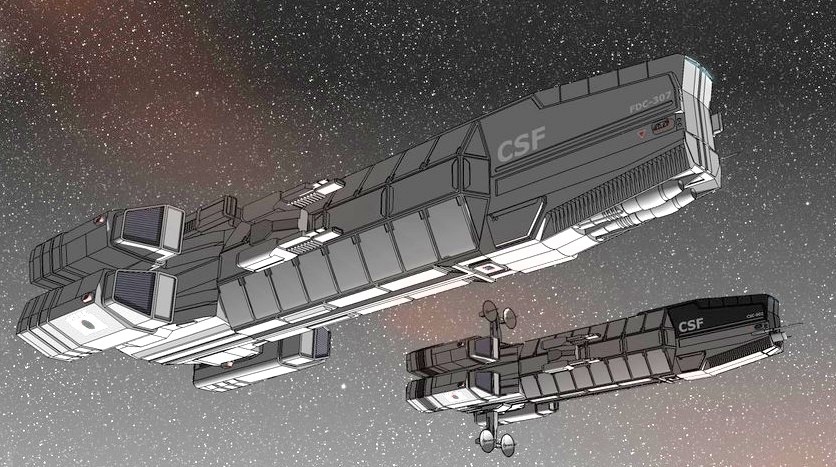 New Tenarph Class Escort Carrier : Olivete, Galena
Commander: Lt Colonel
Executive Officer: Major
Crew- 1,150
Max. Speed- 6x Light Speed
Armament-
(20 ) Small Torpedo Launchers
(24) Light Laser Batteries <12 port, 12 starboard>
(9) Medium Laser Batteries (18 total)
Defenses-
Ablative Armor
Hybrid Layered Armor plate and Ablative Cores
Electronic Defense Shields
Compartmentalization
Stealth Suites
Auxiliary Craft- Galena
(28 ) Medium Fighters
(4) Recovery Shuttles
(6) Shuttles Type 1
Auxiliary Craft- Olivette
(24) Medium Fighters
(12 ) AspR Recon Squadron
(4) Recovery Shuttles
(6) Shuttles Type 1