Colonial Patrol ships often served double duty as Scout and Sentry ships. Some, like the Cerebus Class, were considered tough enough to do Escort work as well.
Cerebus Class Scout Ship
A long range recon and scout ship that carried two vipers for extra support. Capable of landing on a planet for survey work they also found good use as a rescue vessel for surface emergencies and sometimes did double duty as Escort Vessels. Never as numerous as the Daedalus Class scouts the Cerebus Class had a well earned reputation for toughness.
Cerebus Class Scout Ship side view


Cerebus Class Scout Ship top view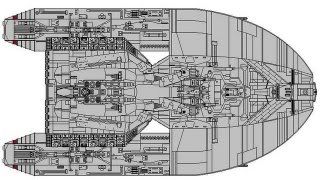 Surviving Cerebus Class Scout Ships:  None Known
Commander: Captain
Executive Officer: Senior Lt.
Crew- 150
Max. Speed- 10x Light Speed +
Armament-
(2) Medium Torpedo Launchers
(6) Small Torpedo Launchers
(4) Light Laser Cannon Batteries (8 total) <2 port, 2 starboard>
(2) Medium Laser Batteries (4 total)
Defenses-
Ablative Armor
Star Shield Composite Alloy Armor Plate
Electronic Defense Shields
Stealth Suites
Compartmentalization
Auxiliary Craft-
(2) Medium Fighters
(1) Shuttles Type 1
Daedalus Class Patrol/Scout Ship
A long range recon and scout ship. Capable of landing. Widely used in search and rescue work and as a general patrol ship in occupied and high traffic systems. The Daedalus Class is the smallest 'regular' warship in Colonial service and was quite numerous.
Two of the Heavy Torpedoes were slung underneath to increase the vessel's firepower in high risk areas.
Daedalus Class Patrol/Scout Ship side view


Daedalus Class Patrol/Scout Ship top view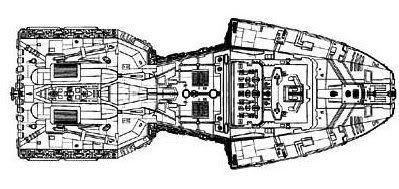 Surviving Daedalus Class Patrol Ships:  None Known
Commander: Captain
Executive Officer: Senior Lt.
Crew- 50
Max. Speed- 10x Light Speed +
Armament-
(2) Medium Torpedo Launchers
(4) Small Torpedo Launchers
(2) Light Laser Cannon Batteries (4 total) <1 port, 1 starboard>
(2) Medium Laser Batteries (4 total)
Defenses-
Ablative Armor
Star Shield Composite Alloy Armor Plate
Electronic Defense Shields
Stealth Suites
Compartmentalization
Auxiliary Craft-
(1) Shuttle Type 1